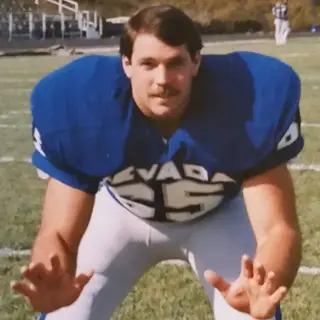 In 1981 I injured my Low Back performing a heavy squat while weight training for my High School football season. I spent the next 2 ½ years visiting numerous Doctors including Orthopedists and Neurologists who prescribed me medication and 6 months of Physical Therapy.
Unfortunately, they could not help my condition and I could not sit for more than 30 minutes without experiencing severe pain in my back…
My Mother then referred me to a Chiropractor that had helped her get rid of her Sciatica. After beginning treatment within 2 weeks I honestly felt about 90% better. In 2 months I was power lifting again. I was able to pursue my dream of playing college football and received a Scholarship to play for the University of Nevada. At that time I made the decision to pursue a career in Chiropractic instead of Medicine. 3 years of College football, power lifting and 3 major auto accidents later I can honestly say I have experienced an injury to almost every joint known to man!
Although these injuries have been frustrating at times, it has helped me to understand what my patients are experiencing and what treatments will work for their conditions.
My goal is to help others get back in their "game" through quality care and by educating them on how to get well and stay well (3 John 1-2).